Team: Alicia Stanislaw, Service Line Director Psychiatry, Women & Children Administration, Caldwell UNC Health Care; Laura Easton, President/CEO, Caldwell UNC Health Care;
Architect and Interior Design: CPL Charlotte
Furniture: Suzanne Fawley, Behavioral Health Interior Designer, Stance Healthcare
A nature-centered treatment facility nearly ten years in the making is now setting a new standard for therapeutic delivery of mental and Behavioral Health care in the US – and the difference is all in its unique "outside-in", nature-centered design. From beautiful murals, to generous use of natural light, soft textures, tones, and sight lines,  Jonas Hill Hospital and Clinic, part of Caldwell Memorial Hospital in the UNC Hospital System in rural Lenoir, North Carolina, is a 17,500 square-foot, inpatient-outpatient integrated mental health treatment facility designed to conjure healing from the natural mountain setting that surrounds it. 
"Our patients see the stars at night and the trees and sunshine throughout the daytime," says Alicia Stanislaw, a lead on the project team as Caldwell UNC Health Care Service Line Director Psychiatry, Women & Children Administration. "Our inpatient unit features 22-foot ceilings and clerestory windows throughout; you feel like you're in a park, even though you're inside."
Background
The vision for a therapeutic-focused space for adult inpatient psychiatric care began nearly a decade ago, when Caldwell UNC Health Care President and CEO Laura Easton began scoping a project that would help provide needed mental health services in an underserved region of the state. The team was originally presented with options to retrofit a floor within an existing hospital – which would limit the facility to the design confines of a general hospital and, from Easton's perspective, inhibit the specialized quality of care that might otherwise be possible with a separate space dedicated just to mental health treatment.
"At the start of all this, we did hospital site visits to other inpatient psychiatric units to get an idea of the space we could create within somewhere existing. What we found were corner spaces that felt dark, remote, and honestly, sad – they didn't lend themselves to the therapeutic experience we envisioned, where patients would feel valued and have the best opportunity to heal," says Stanislaw of the experience.
So Easton, Stanislaw and team began exploring funding options that would support a standalone facility – one that looked and felt nothing like a hospital experience – and finally delivered on that vision this past year with the opening of Jonas Hill Hospital and Clinic.
A unique design emphasis: Nature, light, safety, and freedom
Situated in the heart of the mountainous western North Carolina region, the Jonas Hill facility lets its natural surroundings set the calming tone for all who visit. Starting with floor-to-ceiling windows generously covering the peripheral of the building, soothing views of the outdoor landscape are always within view, and custom murals inspired by the Blue Ridge Mountains cover security vestibule walls that might otherwise be painted plain with disclaimer or warning verbiage in a standard mental health treatment setting.
"When selecting the textile color scheme, the team had supplied a sketch of a mountain mural that was to be painted by a local artist in the group rooms. Along with the natural surroundings of the mountains of NC, the calm of nature became the inspiration," said Suzanne Fawley, a core team member on the project and Behavioral Health Interior Designer for Stance Healthcare, the exclusive provider of BH furniture for the space.
Nods to nature are also noted in the facility's furnishings, from "waterfall-like" shower heads in patient bathrooms to soothing colors, including earth tones and spa-like blue-green color schemes, as well as soft, comfortable textures in the Stance Healthcare furniture collections appointed throughout the space. Cassia, Stance's contemporary style lounge series, provides an unexpected, modern aesthetic in the greeting areas with subtle, Behavioral Health-grade features that make the series both safe and comfortable for guests as soon as they enter.
"Art welcomes our patients so the experience is soothing, private, quiet, and confidential from the start," said Stanislaw. "We provide 'whole person care' here, in a setting that is not institutional, but feels residential – and that starts from the moment patients enter the door."
Use of natural light is also emphasized throughout Jonas Hill, from the inpatient unit's wall-length windows to smart glass windows – which can alternate between privacy mode and natural daylight – used in the facility's two therapy rooms.
Patients and care providers are invited to tangibly experience the outdoors in their daily routine as well. The facility is centered around an enclosed, outdoor "healing commons" space, which features a unique labyrinth area designed for recreational therapy like chalk art, as well as a basketball court. This area provides the dual benefit of increasing regular access to physical activity outdoors – which has been shown to encourage and prolong healing outcomes in treatment – as well as offering care providers the visibility into patient activity that doesn't feel intrusive or restricting.
"The leadership team was very involved in all furniture and finish materials selections. Their team approach considered the needs of not only the patients and patient support, but also the care providers," said Fawley. "An example of this is the dual outdoor spaces: One for the patients that included a labyrinth, a space of reflection and other areas for fitness and interaction. Another for the care providers, an interior staff courtyard that serves as a break space – a place for rejuvenation."
As both an inpatient and outpatient mental health treatment facility, safety considerations are carefully appointed in furniture and space planning appointments throughout the facility. In addition to the "outside-in" vantage point of the interior courtyard, Jonas Hill also features an open-concept nurses station with a circular desk, deliberately designed to prevent patients from directly accessing the inside. Patient bathrooms also feature magnetic, suicide-preventive doors and from the building's lounge and therapy areas, to its patient bedrooms, Stance Healthcare provided ligature-resistant furniture selections designed to withstand wear and tear and prevent injury.
"Safety, maintenance, and durability were top of mind when selecting furniture pieces. Stance's award-winning Resilia end tables were selected not only because they are beautiful, but because they will perform for years to come, unlike many laminated-based cylinder style tables on the market," said Fawley. "And we chose Stance's rotationally-molded Frontier bed for the patient rooms, as it offers a unique combination of safety coupled with a craftsman-like, comfortable aesthetic."
Freedom to move unrestricted throughout treatment areas, including during class or individual therapy sessions, is also carefully prioritized in the facility areas. Group therapy classrooms, for example, feature a transparent wall to create privacy when needed. The facility's meditation room also offers patients their own "private moment" when needed, and features music therapy. Even the medication administration options encourage freedom in unique ways at Jonas Hill: patients are given the option to walk to and from medication doses, empowering them to feel more ownership and humanity in the treatment experience.
"This is a special place oriented around hope and healing. The feedback about working here and experiencing inpatient treatment here has been overwhelmingly positive," said Stanislaw. "Because this is such a natural and therapeutically soothing environment for healing, patients seem to be motivated to get up and out of bed every day and engage in their treatment."
Jonas Hill Hospital and Clinic is located at 407 Mulberry Street SW in Lenoir, NC. Learn more about the facility at https://jonashill.org/ and explore Stance Healthcare's collections for general healthcare and Behavioral Health settings at https://www.stancehealthcare.com/ and https://stancebh.com/.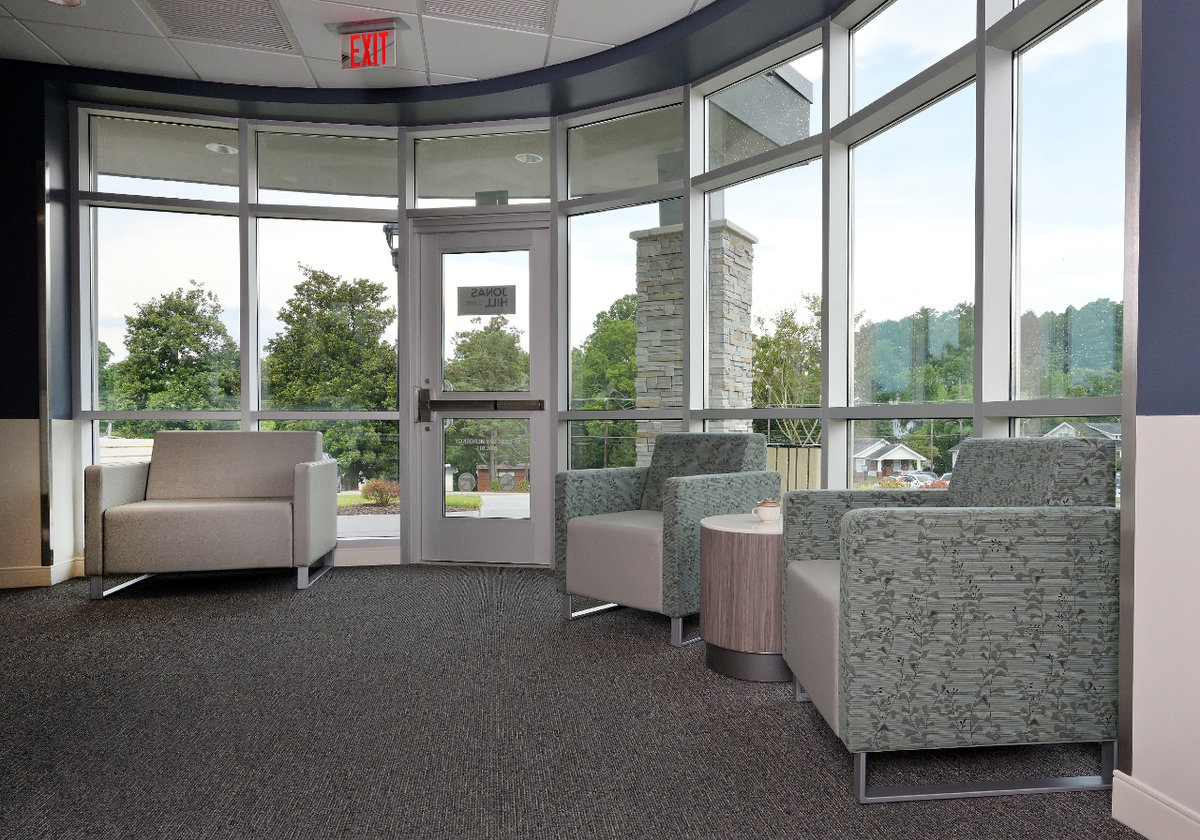 Lobby featuring Cassia and Resilia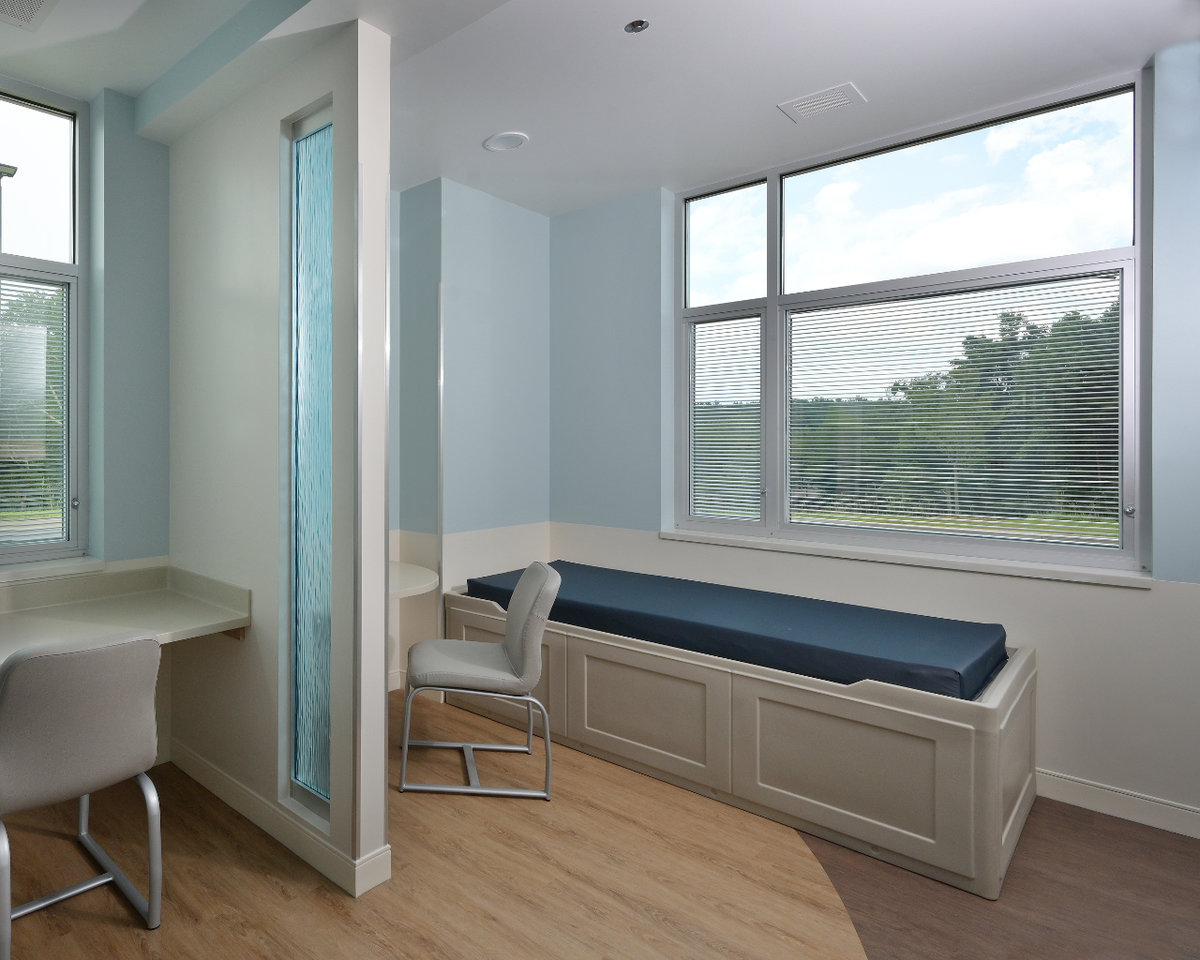 Patient Room featuring Frontier Bed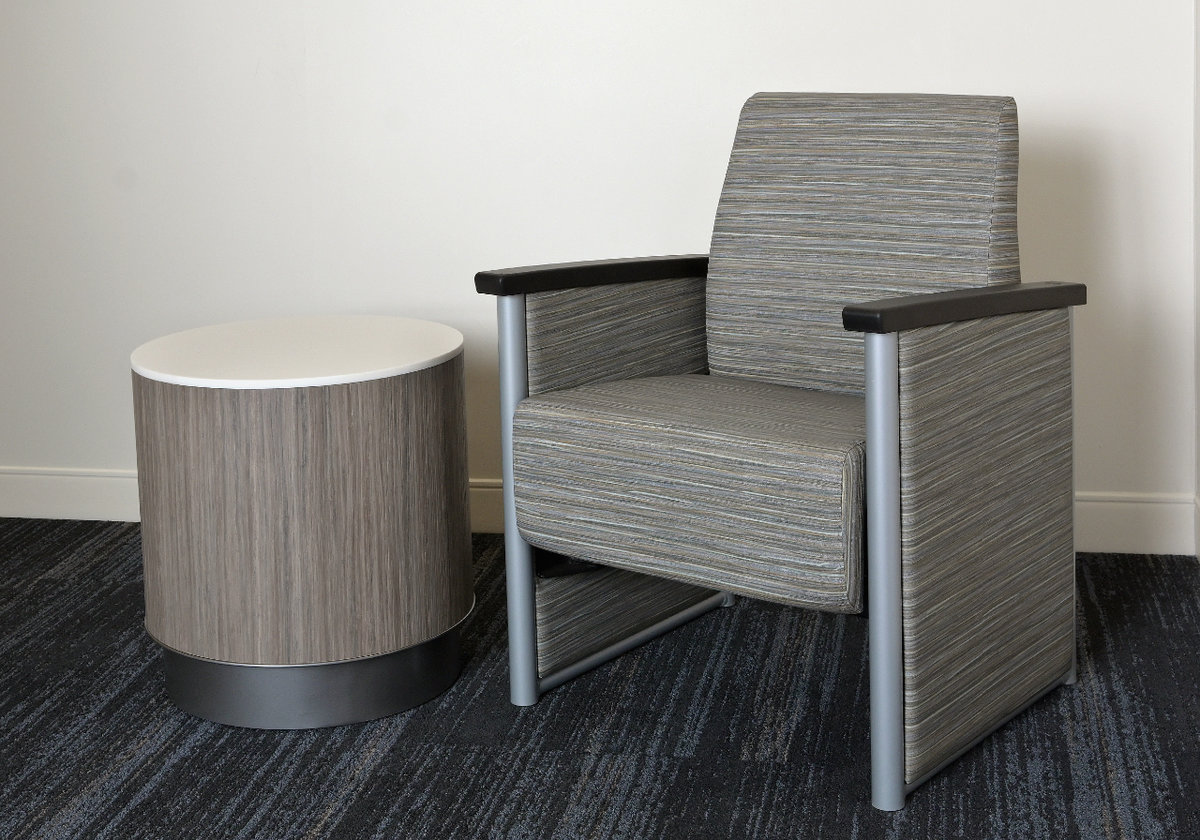 Quiet Room featuring Oasis Glider and Resilia