See How Stance Is Improving Lives By Design At The Center For Health Design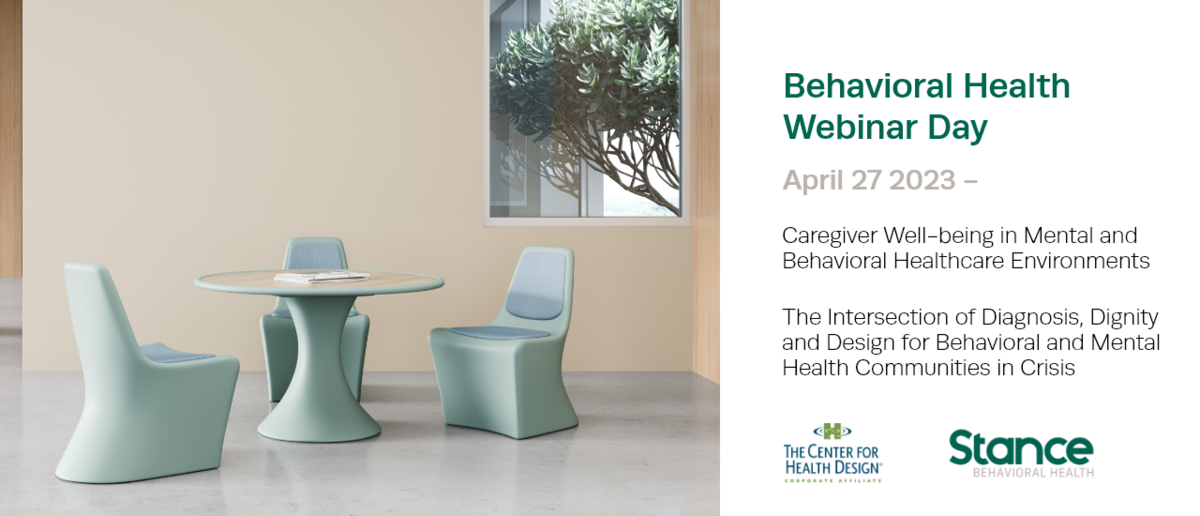 Stance, an award-winning, industry-leading healthcare furniture manufacturer, is proud to continue our partnership with the non-profit Center for Health Design (CHD) for another year. The partnership began in 2018, and it's been a great fit because both organizations are dedicated to advancing design best practices education  in the healthcare space.
 
CHD is the go-to non-profit for education that equips today's industry professionals with the tools and knowledge they need to support and improve healthcare quality through better design. They help empower healthcare professionals through research that demonstrates the value of design to improve health outcomes, patient experience, and staff performance. Stance has a proven track record of Improving Lives By Design by manufacturing thoughtful, intuitive healthcare furniture that supports healing. Together, we can make a bigger impact and improve even more lives.
For this year, our partnership's event programming kicks off on April 27 with two webinars, Caregiver Well-Being in Mental and Behavioral Healthcare Environments and D3 — The Intersection of Diagnosis, Dignity and Design for Behavioral and Mental Health Communities in Crisis.
 
Caregiver Well-Being in Mental and Behavioral Healthcare Environments will be hosted by Arien Cartrette, an award-winning architect who combines his design sensibilities, technical expertise and humanity to create places of recovery. His innovative approach to the design of psychiatric healthcare environments and stigma-dissolving architectural design solutions give him a unique perspective and a wealth of knowledge. He is a contributor to the 2022 FGI Guidelines for the Design and Construction of Healthcare Facilities as a topic group member for behavioral health crisis units. Arien will discuss how the COVID-19 pandemic exacerbated a staff shortage problem that had been growing since 2016, and what the industry can do to combat that.
 
D3 — The Intersection of Diagnosis, Dignity and Design for Behavioral and Mental Health Communities in Crisis will provide guidance on community crisis center planning, design and construction to ensure maximum dignity and accurate diagnosis for individuals served within a safe and restorative environment of care. Presenters will share a care model that fills the gap in design recommendations for a standalone community crisis response that lies between intensive outpatient and acute hospital settings. They will also establish a basic design framework with service definition, highlight research findings, give an update on community responsiveness to the 988 crisis hotline, provide suggestions for regulatory responsiveness and share several case studies.
 
In addition to the April 27 webinars, there will be more workshops and webinars on the schedule in the coming months that will feature insights from industry experts on a number of topics relating to healthcare design:  
 
Behavioral & Mental Health Virtual Workshop on May 25th, 11 am-4 pm EST: To meet the increased demand for care, support improved care, and enhance staff safety, today's design, facility and care professionals have to advance their understanding of the environment's impact on behavioral health care and learn how to incorporate the best and latest design solutions throughout all healthcare settings. This one-day virtual workshop provides the latest in design thinking for behavioral health care and health settings and offers state-of-the-art best practices through thought leader presentations, case studies, and panel discussions.
Two webinars on August 17th: information forthcoming
In-person workshop in Minneapolis on September 28th: information forthcoming.
 
 This ongoing partnership is just another example of Stance's commitment to Improving Lives by Design and how we are supporting a better overall healthcare experience for all. To learn more about what makes this partnership work so well and to get more information on the partnership events, go to https://www.healthdesign.org/events.