Delve Magazine: Interview with Suzanne Fawley, IDS, CHID
Behavioral Health Interior Design Consultant, Stance Healthcare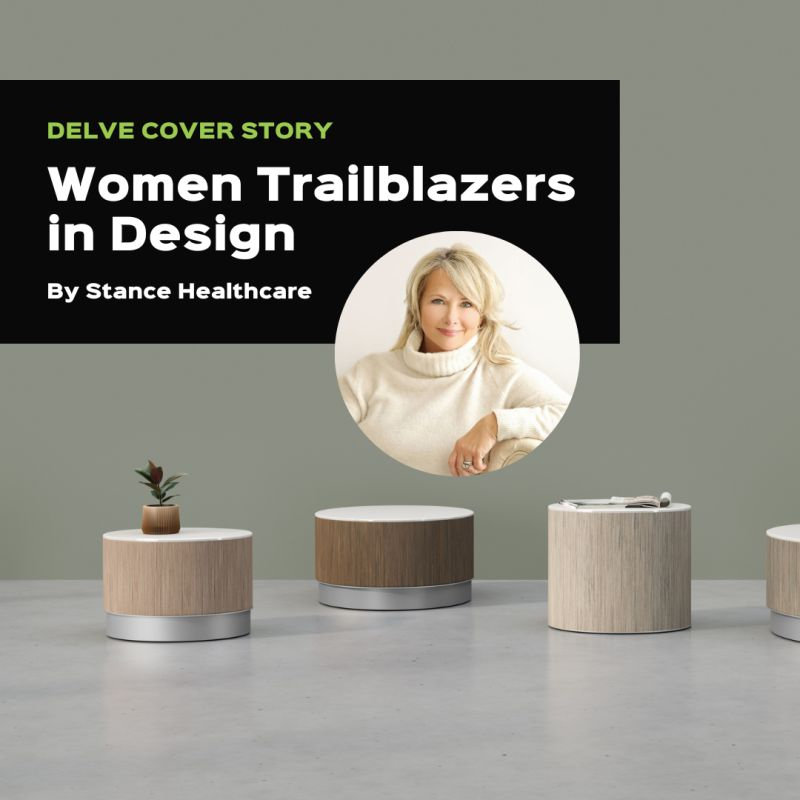 How did you first become interested in design? What are some of your earliest memories exploring this interest?

I spent a lot of time in my room as a little girl, and as I think back I always decorated my room seasonally; dandelion flower arrangements, clover chains as window swags, Christmas trees, pine cones and lots of lights if I could find them. This evolved into spending hours drawing, painting and designing floor plans of creations in my mind. I had no idea at that point I wanted to be a designer, probably didn't even know what designers actually did but I guess I was practicing design even at that point.

What inspired you to pursue this interest as a profession? How has that inspiration evolved over the years?

As I went off to college I thought I wanted to be a teacher. I loved working with kids and with the exception of my parents, many in my family were teachers, principals and counselors. I thought a teaching degree was the way to go. After completing a BS in Education I began to feel the call to design when the design of a classroom, or friend's homes, or layout of a building began to be of great interest. I then went on and added a couple more years in school to gain a BA in Interior Design with an Art minor. With regard to how my inspiration has involved I think it is more of a compilation of the meaningful and exciting Interior Design, Brand Design and Product Design roles I "fell" into. I didn't set out to be a designer as I mentioned; it called me as a way of helping people create a better daily living experience, through supporting brands that actually feel and breathe the product, and product design that leads to true environment specific solutions.

Is there a female mentor who has been particularly influential in your personal and professional development? What are some lessons you learned from her?

This is the easiest question to answer. My first Interior Design job was with an interiors only firm located here in NC. Hayden Design Associates is a woman and minority-owned business and until recently, when the company was sold after 40 years, was owned and operated by Donna Hayden Keene, IIDA. Donna was and continues to be my greatest mentor, as she has been for many designers. Though I left the firm after several years, we still today work on "specialty projects" together and she serves as one of my most valuable focus group members and closest friends. She is a trailblazer for women, strong and kind, creatively talented but also "creatively" able to pull the company through the lean years by putting people first, clients first – yet skillfully able to bring in new business through a variety of market segments. I remember in the 90's she made sure we all worked on "professional presence"; in those days we wore suits, dresses and skirts to the office. She taught me a lot about presentation. Always understanding that if we were not put together, how could a client trust us to envision a space that would encourage their company growth or living environment. Today things are a bit more relaxed but I still only wear solid colors that blend with the scheme I am presenting or black that doesnt compete with the desired goal. She emphasized the client's goals first even when it was our job to figure out what their objectives need to be to achieve the goal. Though she has won many industry awards, she has never been concerned with personal accolades. A great lesson. Win for the client and ultimate user… a successful outcome. She is and was, a teacher and designer. I guess that is enough said about her influence on me. 
How did you get into healthcare design specifically? And, what were some of the formative experiences you had learning about this industry and the importance of it?

Wow, a big question. Early in my career I began to space plan, provide interior design, furniture specification & budget planning for numerous MOB's (Medical Office Buildings), Dental practices, Senior Living, Behavioral Health and overall general healthcare work. At the same time I worked on Hotel, Banking, a variety of commercial buildings and once in a while a client's home. I now realize the opportunity to design for so many types of environments in different work environments was a learning decade, a true benefit and has led me to understanding the commonality among all of them: the user experience. Understanding the nuances, codes and requirements per type of space comes in time, and additional education is critical. However, understanding that you get the most critical information from your programming team, from user-observation and listening carefully to the people you are working for.

What are some of the most interesting projects you have been involved in?

Most recently and healthcare related, would be assisting with the soon to open Idaho Youth Ranch for children experiencing mental health therapy, the newly opened Steve Smith Foundation Behavioral Health Urgent Care in Charlotte, NC, several Addiction Recovery centers, a wonderful Cancer Hospital and a couple of Prison hospitals. In general, throughout my past, there are so many. How about a three story, 100' Catamaran luxury yacht, an Art museum, Planetarium and concert event space, a 200 year old mansion, various hotels and automotive dealerships? All are different, all were hard work and fun, all experiential!

You have done commercial and residential design, and are now an award-winning product designer. Tell us about how you approach furniture design?
Designing products requires great skill and time. Stance Healthcare has been the perfect partner to design product with. They have skilled product development individuals led by Cesar Fenandes, and have a leadership team that has come to know how important the patient experience is, beyond developing a product just to fill out a line package. Several years ago I was privileged to work with Stance and the Brandon Agency as the brand direction was determined. Together a meaningful tagline for Stance was developed, Improving lives by Design. At this point in my career this mantra, the way they allow for thoughtful design, is more important than individual design awards. Though very enjoyable :)

What is your favorite of the collections you have helped design? What are you most proud of about them?

The Resilia table collection is probably my most loved collection because it was one that was pitched to a major manufacturer and rejected. I believed in the product and knew that it would perform exceptionally well in every high-use environment. Resilia uses a high-performance flooring material created out of natural materials, with no use of synthetic materials like PVC plastic or polyolefin, around the surround of the table. It is nearly indestructible and very safe for Behavioral Health and any high-use space. It is a little beast with every detail intentionally designed. Stance Healthcare's President, Bruce Kennedy and CEO, Carl Kennedy listened to the concept, reviewed the drawings and within 6 months it was produced and entered into 2017 Healthcare Design where it won the top Nightingale Gold Award in its category. Stance is a "never say no" company when it comes to designing solutions.

In your opinion, how is healthcare delivery impacted by the environment care is delivered in? How does the design work you do play a role in the patient or care provider's experience?

Environment is everything! Many years ago I walked into a blood draw medical office building to get blood drawn myself. I was horrified and as an interior designer I saw everything. The chairs were dated and covered in outdated upholstery with dried blood on them, the vinyl seats were cracked, the carpet was frayed and the walls were beaten up with tears in the wallcovering and gauges in the paint. At that moment I wanted to hand out my card and volunteer to "fix" this office. As a patient who already felt vulnerable, I questioned the care and the professionalism of the healthcare workers because of that environment. My thought was that if they didn't care about their work environment, how was I to think they would take care of me? This was long before brand image was integrated into design but this company even today, is a very large and well-known lab company – a true example of the connection between the designed environment and patient (user) experience. As they say, the whole by way of its parts. The caregivers were skilled but I just felt "gross". Healthcare above all, is impacted by all of those parts and must give great attention to the total experience one has. Architects and Interior Designers design with this in mind.

What are some ways you support young women starting out in this industry? What avenues for professional development do you encourage them to explore?

love working with young designers and have had interns along the way. Today I have designers call me after the CEU I give just to chat, to gain perspective and hopefully use the advice and banter to excite them, to help them see the value in design. WE truly have a wonderful way to impact lives in such a powerful way, and that includes all aspects of design. Today, I have my hands in so many different types of projects that each have a way of inspiring me and challenging my mind to stay fresh, think bigger and differently.

What's next for you?

Presently,  I am partnering with Stance on a new furniture collection in the making for Behavioral Health environments, one that does not look or feel clinical or appear plastic or as "safety furniture". It is the culmination of my thoughts on designing for dignity through universal, experiential design. The collection will be able to be used in many applications, Behavioral Health, General Healthcare, Contract and Hospitality spaces. With regard to Interior Design, assisting interior designers and architects gives me a lot of pleasure. I can be a sounding board which hopefully helps them and I continue to learn. Team input truly leads to the best design outcome.

Anything else?

With regard to Interior Design in general, I will always keep my hands in interesting "experiential" projects. Personally, I'll keep planning parties, design floral arrangements and most importantly spend valuable time with my husband, three children and three grandchildren, encouraging them to see and experience the beautiful details in life and then create their own.
Read the interview in My Resource Library's Delve Magazine